Bird Decline in the last 50 years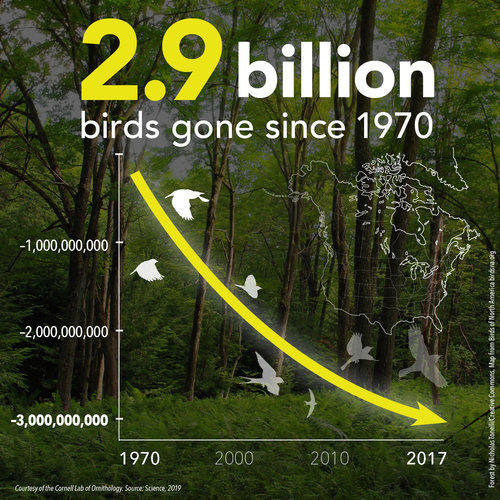 Common birds—the species that many people see every day—have suffered the greatest losses, according to the study. More than 90% of the losses (more than 2.5 billion birds) come from just 12 families including the sparrows, blackbirds, warblers, and finches.
The losses include favorite species seen at bird feeders, such as Dark-eyed Juncos (or "snowbirds," down by 168 million) and sweet-singing White-throated Sparrows (down by 93 million). Eastern and Western Meadowlarks are down by a combined 139 million individuals. Even the beloved Red-winged Blackbird—a common sight in virtually every marsh and wet roadside across the continent—has declined by 92 million birds.
"We want to keep common birds common, and we're not even doing that," said Pete Marra, a study coauthor who formerly directed the Smithsonian Migratory Bird Center and now directs the Georgetown Environment Initiative.