Important Update Regarding Unknown Bird Illness. OK to Get Back to Feeding the Birds!
We know it's been tough not feeding your backyard birds while wildlife experts have been investigating reports of a mysterious bird illness across several states this spring and summer. But we're happy to share that Virginia DWR officials have given the "all clear" for bird feeding now that cases have declined sharply.
The health and well-being of birds is our number one priority and we want to thank you for helping in those efforts. If you haven't already, be sure to clean and sanitize your feeders and bird baths before refilling them. Also make sure your feeding areas are tidy as you invite birds back. To learn how, review our recommendations for Responsible Bird Feeding.
We hope your birds will be happy to see the feeding stations open for business once again. And we look forward to seeing you back in the store soon!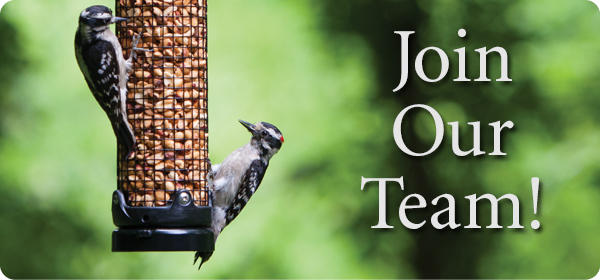 Are you our next great employees?
Open Positions: Assistant Managers (2) and Sales Associates (2).
The difference between Wild Birds Unlimited and other retailers goes far beyond what we sell. It's who we are. Enthusiasm, professionalism, informed advice and superior customer service are the hallmarks of our staff.
We are seeking two Sales Associates and 2 Assistant Managers with great retail and service skills. Working at your locally owned Wild Birds Unlimited store is an opportunity to support and educate our friendly customers about birds and nature.
Our Assistant Managers and Sales Associates work with other staff, including the owner, to bring to life the store's mission – "We Bring People and Nature Together®…And We Do It With Excellence!" To that end, we provide training with regard to backyard bird feeding, bird watching and product knowledge.
Requirements:
Previous retail experience preferred, but not required.
Ability to lift and carry seed for our customers – a foundation of our service!
Will consider both full-time and part-time applications that meet the needs of the business, but a flexible schedule and the ability to work weekends are required.
Our goal is to provide quality products, service, expertise and a high energy shopping experience. Help customers bring nature into their own backyards and lives. Come join our team!
Sales Associate Job Description