How To Create a Jim's Birdacious System
With Jim's Birdacious® Treats, Trays & Toppers, it's easy to turn a small outdoor space into a bird feeding system with lots of activity.
The big decision is: Go Simple or Go Wild?

Place Jim's Birdacious TreatTray™ on a Deck Mount or Advanced Pole System® pole.
Add four different Treats in the four sections of the TreatTray.
It's a simple setup that, with the four delicious foods, will attract a variety of birds and allow you to see all of their interactions.
Now get ready for your imagination to take off.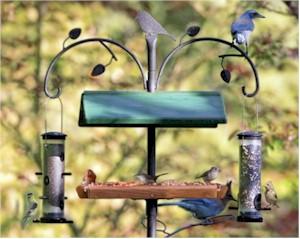 Basically, anything that can go on our Advanced Pole System can go on top of the TreatTray. These additions are called Toppers, and there are hundreds of combinations.
Add a roof over the TreatTray to protect your birds and food from the elements. Do you have squirrels? Place Squirrel Inhibitors on the TreatTray to keep them from eating all of your birds' Treats.
Toppers include finials, Bark Butter Feeders, Bird Food Cylinder Feeders, Seed Tube and Finch Feeders, WBU Hummingbird Feeders and Dinner Bell™ Feeders.
Have fun!